Vegan (plant-based) chocolate bonbons that you can share with friends and family, use as a hostess gift, to share for celebratory occasions - or simply to indulge in the sweetness of life.
Have you heard the saying that "life is like a box of chocolates?" Well, let each one of these chocolate creations remind you and those you share it with about the sweetness of life. 

Perfection in every bite for you to enjoy the flavors that we continually curate for your tasting pleasure. Flavors include: 
Almond Coffee**, Anise*, Caramel Apple*, Coffee, Date Caramel, Gianduja**, Ginger, Hibiscus, Jasmine, Lavender, Lemon, Matcha, Orange, Orange Blossom, Passionfruit & Banana*, Peppermint*, Pistachio**, Plain, Pumpkin Spice*, Raspberry, Rooibos, Rose, Smores*, Strawberry, Turmeric, Vanilla
* Seasonal flavor
** Contains nuts
*** Selection of flavors may vary from those pictured
Customer Reviews
03/11/2021
Jennifer P.

United States
I recommend this product
Beautiful and equally delicious
The flavors are amazing and they are equally as beautiful! The craftsmanship is impeccable and they taste delicious. Order them - they are a must try!
11/29/2020
Emma

United States
I recommend this product
Beautiful and Delicious
I am addicted to these chocolate boxes. I am vegan, don't eat sugar and try to avoid salt and like dark dark chocolate. So I used to make mine weekly to fit my needs. And then Nhiär came along. These chocolates are aligned with my eating philosophy. I love the way they look, the flavors are varied, subtle and powerful at the same time. Quality, texture, look... just amazing. The packaging is beautiful. My only trouble is not finishing the box of 12 in under 3 days.... yeah... THAT good! And the woman who created them is a beautiful courageous ethical entrepreneurial soul worth supporting! She's doing the right thing.
11/28/2020
HSM

United States
I recommend this product
Best Chocolates
I love everything about these chocolates! From the way they come packaged, like you're opening a special gift to the way the melt in your mouth. I love them and love sharing with my friends and family!
11/27/2020
Ghassan

United States
Full sensory experience
Nhiär Chocolates gave me a full sensory experience. From the packaging, the presentation of the chocolate pieces shapes and design, to the high quality chocolate and ingredients, and the delicious addictive taste. It is clear that it's a meticulously made chocolate with lots of Nhiär (love). Although I'm not vegan, since I discovered Nhiär Chocolates I've been choosing it over other chocolate for gifts and for my own enjoyment.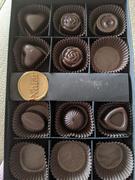 10/22/2020
Daniele

United States